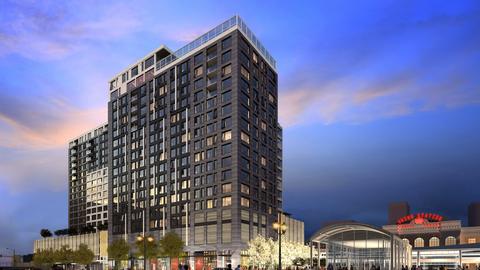 Marketing will begin this spring for a rare, high-rise condominium development near Union Station. The 334-unit complex called "The Coloradan" is the last high rise building to be completed by East West Partners in the Union Station neighborhood at 1750 Wewatta.
The 19-story building will include 33 affordable housing condos priced in the mid-$200s, and the remainder of the units will be priced from the high $200s to $1.3MM. The 19th floor will feature 7 penthouses priced from $1.6MM to $3MM. The project will also include 19,000 sf of ground-floor retail and a 447-space parking garage (according to a recent Denver Business Journal article).
Amenities include a rooftop pool deck and club room, residents' lobby, fitness room and a residents' garden as well as the 447-space parking garage. In addition, The Coloradan will be LEED Gold and Certified Healthy, a Denver-based certification program that recognizes exceptional projects that integrate healthy standards and encourage healthy lifestyles. Completion date is scheduled for September 2018.
The location of this new development is every urbanites dream! Just steps from the light rail station and dozens of restaurants at the hopping Union Station, city living does not get any more dynamic. The Coloradan will also be connected to the light rail station via a pedestrian bridge, making trips to the airport a breeze and with a brand-new King Soopers as well as a future Whole Foods just steps away, even food shopping is no longer an issue. If you have been dreaming of a car-less lifestyle, then this development is for you!
If you would like more information about this new project please contact me at karina@denverluxeteam.com.
Listing and photo courtesy of Slifer, Smith and Frampton.